Mehendi is a very traditional thing that we all Indians do. Whether it is a wedding, festival, or any other significant function, women apply adorable mehendi designs on their hands to accentuate their look. As it is such a popular tradition to apply mehendi on hands, there are thousands of designs available. It becomes difficult to search on several platforms and then decide upon one. Also, no one wants to end up having an old-fashioned mehendi design applied on their hands. 
Hence, here we bring a single-step solution to your mehendi design requirements. Here is a list of the most beautiful henna designs that you can pick from for your upcoming function or festival. 
Simple mehendi designs
Well, even though traditional henna designs are full and heavy, these days girls are moving towards simple modernistic styles. Simple mehendi designs look modernistic and give you a chic look with minimum effort. 
Here are some of the best simple mehendi designs for you and your girl's top rock in the next wedding season. 
Source – Pinterest 
This is such a stunning yet simple design. The leafy structure looks so classic and pretty to the eyes.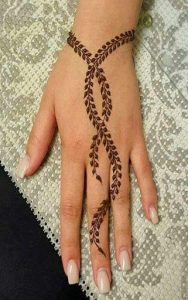 Source – Pinterest 
Just look at the eye-warming design of this stunning henna. The leafy trails entangled together going up through one finger looks eye-catching. 
Source – Pinterest 
What is better than such a simple design that looks simply perfect. Such designs are appropriate if you are a bridesmaid if you need a mehendi design for a festival or a simple family occasion.
Source – Pinterest 
This is a simple but very traditional henna design. The big circle in the center of the palm embellished with leafy trails and dots is a traditional henna style. The little designs near the finger add up to the glory of the design. 
Source – Pinterest 
Okay, this is undoubtedly one of the most unique mehndi designs you will ever see. The simple leafy trails on the sides of the fingers with clean palms look absolutely striking. You should for sure try this design someday for some occasion. 
Pretty fingers, clear hands! 
Such designs are very much in trend these days. The chic styles have pretty designs on the fingers. The palms are left clear in order to highlight the designs on fingers. 
Source – Pinterest 
These filled fingers with lines and leaves look eye-striking. Also, if you fill your fingers with pretty designs, your hands do not look at all empty. Instead, you will get a stunning henna look. 
Source – Pinterest 
This henna design on fingers is evidence that there is beauty in simplicity. Just look how simple and unique this henna design looks. 
Source – Pinterest
Okay, this is for sure one of the most unique henna designs ever. The symmetrical lining design with floral patterns looks fabulous. 
Source – Pinterest 
The modern mandala style henna
The modern mandala patterns have gained a lot of popularity for a quite long time now. They have become popular in different fields. From painting to cloth patterns and even henna designs, modern mandala patterns is the new trend. So, you should also try out this mandala pattern mehendi for sure the next time you plan to get mehendi designed on your hand. 
Source – Pinterest  
The bridal style mehendi
So this is the most traditional style of mehendi, especially In India. The brides all over the country get their hands covered up without leaving even a titbit. As weddings are the most auspicious occasions, the most splendid henna patterns are that cover the hands properly are designed on brides for weddings. These designs may go up to the elbow or can also end up just at the wrist. Such patterns look magnificent when paired up with those heavy and fabulous bridal lehengas. 
Source – Pinterest 
The check and geometry
Another amazing way of filling up your hand with henna is to get a checkered pattern on your hand. In these types of styles, hands get filled but there is an appropriate amount of skin visible which looks absolutely gorgeous. Such a pattern is perfect for those who want to get an illusion of fully covered hands but at the same time don't wasn't a very traditional kind of henna.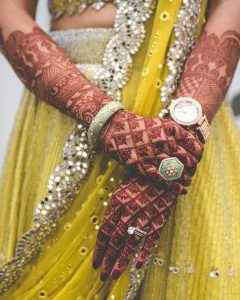 Source – Pinterest 
The finger ring pattern
So this pattern is for the fashionista ladies out there. If you want to have henna done on your hands but at the same time don't want too much of it, this is the right pattern for you. In such styles, only a ring-type design is made on one of your fingers and the rest is left as it is. 
Source – Pinterest 
The bracelet pattern
After the ring pattern, yet another splendid henna pattern is the bracelet style. The bracelet style looks very pretty as it looks simple yet as fulfilled as needed. This pattern looks like a bracelet or a watch on the wrist. Some people also combine the bracelet and the ring pattern together to give a full hand look. 
Source – Pinterest 
The Arabic style mehendi
The Arabic pattern mehendi design is for those who are in love with simple and sober patterns. The simplistic modern-day women mostly chose an Arabic style mehendi instead of the traditional fully covered hands. Arabic style generally goes in a slanting line from the wrist to the top of one finger. 
Source – Pinterest
Also, check out this article on why to give saree as a gift