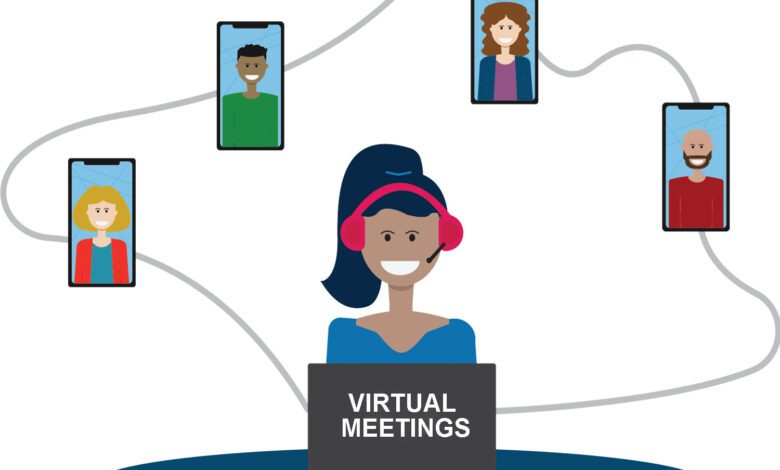 Virtual meetings are here for a long time. They first appeared in the 90s. These virtual meetings were chiefly used for job interviews. And they were not adopted by many organizations. In fact, they were not mainstream. But all of this changed last year. When everyone was forced to work remotely. And work from home became the only option for everyone.
It was this time when the virtual meetings' potential was realized. And were the only viable option to communicate. So, the organizations and businesses started using virtual meetings. And with growing demand all over the world, many new platforms came. Providing an improved and easier-to-use interface. Platforms or software like Zoom became an instant success with millions of users daily.
But what exactly is a virtual meeting? Let's look into it.
Defining Virtual Meeting
A virtual meeting is a meeting that happens on a digital medium. Its goal is to recreate the experience of the physical meet-up in an online world. The participants are connected through the internet from remote locations. Whereas these locations can be anywhere in the world.
So, the next question is virtual meeting and virtual event the same? If not then why? Let's understand this.
Virtual Meeting vs Virtual Event
The virtual meeting is actually different from a virtual event in many ways.
In a virtual meeting, there is only one session. Whereas in a virtual event, there are multiple.
Usually, there is a moderator in a virtual meeting and all participants converse with each other. Whereas in a virtual event, the session is addressed by speakers or guests.
Virtual events require more planning, like the speaker line-up and sequence of the event, etc.
Now that you know the difference between virtual meetings and virtual events. Let's move on to the types of virtual meetings.
Types of Virtual Meetings
Regular meeting
A regular or standard meeting is a small or midsize meeting. These types of meetings can be 1:1 or group meetings. Also, it doesn't require any extraordinary features or tools. These meetings are the digital alternative to regular physical meetings. And they are the most popular form of virtual meetings.
Generally, these types of meetings are informal in nature. They help in connecting remotely located members. The platforms like Skype or Zoom are the most preferred for this type of meeting. A typical example of this type of meeting is Town Halls.
Benefits of this Meeting Type:
Faster to set up
Reasonable
Works for two-way Communication
Easy to host
Live – stream meetings
These types of meetings have a higher quality of production. The interaction between the audience and speakers is less compared to regular meetings. You address a broader audience. Also, these videos help in sharing information with customers or masses.
The live-stream meetings can be made available on different social media platforms. Some of them are Vimeo, LinkedIn, Facebook, Instagram, and YouTube, etc. While uploading, you can also include graphics for a better experience.
Benefits of this Meeting Type:
High production quality
Options to include graphics
Wider reach
Saved for future reference
Virtual conferences
A virtual conference is much more different than a virtual meeting. And the most notable difference that sets them apart is the element of interaction between the attendees. Virtual conferences, just like physical conferences only held in the digital medium.
A virtual conference required different features like live polls, surveys, 2-way interaction, and more. Also, it provides a richer experience than a virtual meeting. The virtual AGMs are one of the examples of virtual conferences.
Benefits of this Meeting Type:
A better option than face-to-face meetings
Comprehensive attendees – exhibitor interaction
Comfortable for a larger and international audience.
Availability of live and on-demand videos
These are different types of videos. Now let's look at why you should host a virtual meeting.
Advantages of Hosting a Virtual Meeting
1.Cross Geographical Barriers
A virtual meeting can be attended by anyone from any part of the world. You don't need to be at a particular location. It means you meet with your clients and customers from all over the world.
2. Flexibility of Time
Host a meeting anytime. You can meet people all over the world. For this, you only need to mention the date, time, and duration of the meetup. If you are inviting an international attendee then, don't forget to mention time according to their time zone. Also, you can provide an option of availability of on-demand video of the meeting. So that other people can also access it.
3. Cost-saving
Unlike a physical meeting happening at a specific location, a virtual meeting can be attended from anywhere. It means that you don't need to travel. And you can cut your expenses on traveling, accommodation and so on. And you can utilize this money more efficiently.
4. Emergency Situation
One of the significant advantages of a virtual meeting is that you can host a meeting in an emergency. Take the example of the current situation of the world. There is a raging pandemic, and many places are still in lockdown. But many organizations are connected with their employees, shareholders, board of directors, and so on virtually.
This means you have a certain level of autonomy over the control of things. And it is not just about natural disasters like earthquakes or tsunamis, but also the urgent situation. Sometimes these situations require a high-level meeting, which cannot be organized physically at that time. So in situations like these a virtual meeting is the only option.
5. Optimised Networking
You can make new connections more effectively in a virtual meeting. For this, you need to use a virtual platform that provides essential features and tools for networking. Here is an example of such tools – Networking lounges, 2-Way interaction, B2B Meeting Scheduler, and option to exchange virtual business cards. Apart from this, you can also chat 1:1 with attendees. Or upload documents or exchange digital business cards and so on. The networking opportunities with virtual meetings are endless.
6. Make your Meeting Engaging
You can make your virtual meeting exciting. The dynamic nature of the meeting can help the attendees in better focusing. So you can interact with your attendees using several features. You can include emoticons or can have Q&A. Also, you can conduct polls, surveys, and so on.
We hope this article will clear all your doubts about virtual meetings. And you will have a successful virtual meeting.