Do you know the staple outfit in everyone's closet? It is a collection of leather jacket. The collection of leather jackets also includes distressed ones as they give a casual vibe while being chic and stylish. This has-to-be-there outfit makes your capsule wardrobe wholesome and well-rounded.
Leather jackets are also seamlessly perfect for every season. Another plus point of wearing leather jackets is that it automatically makes you look like a person who has put genuine efforts to dress up before stepping out.
Picture Courtesy – The Trend Spotter
Since everyone wears them, you might wonder how to keep your style fresh and updated. Please do not stress because we have listed down tips on how you can style your leather jackets. So, do not hesitate anymore to pick up the jacket from the pile of clothes in your closet.
We are here to upgrade your how-to-wear leather jacket look by customizing your jeans and so much more.
Can you wear a leather jacket with a corset outfit?
Usually, when people talk about how all long-gone fashion trends decide to bounce back as a trend, people generally refer to velvet-colored tracksuits or something as cringy as that. However, here, we are talking about the staple dress in the Victorian era, that is, the steampunk corset.
Now, the dilemma is how to wear a corset top during the bright daytime lunch. You might not want to reveal too much or indirectly create wild imaginations in the mind of bystanders. So, we suggest you try out these tips.
Picture Courtesy – stylecaster.com
Wear a leather jacket over the corset. Pair it with distressed or faded jeans. Also, put on black boots designed for combats along with adding a waist cincher. This will make your look not so cliche.
You can also try out wearing a waist cincher on top of a simple, one-colored tank top. However, even in this case, you have to put on an oversized white or black leather jacket. Lastly, put on baggy jeans in case you want to maximize the casual look.
Picture Courtesy – stylecaster.com
This is one of the ways you can become a fashion trendsetter. So, don't forget to try these tips and grab a few eyeballs, turn a few heads.
The women's guide to how to wear leather jackets with a different type of jeans-
1.   Wear a leather jacket with denim jeans shorts –
There comes a time in the year when it is chilled and cold enough to wear a jacket, yet it is a bit too warm to wear long straight-leg denim jeans. Hence, when you face such weather, this combination of a leather jacket with denim shorts is the ideal outfit option for you.
Picture Courtesy – StyleFavourite.com
2.   Wear a leather jacket with comfortable boyfriend jeans –
Do you get worked up when you have to go for a quick coffee run with friends, and you feel like dressing down? Do not panic because we have the perfect tip on how you can wear a leather jacket when you want to dress down. Pair it with a one-tone t-shirt, warm boyfriend jeans, and sneakers. If you feel to put in a bit more effort, then you can wear heeled boots.
Picture Courtesy – Pinterest
3.   Wear a biker leather jacket with tie-dye jeans –
Do nod your head if you agree to these  – Do you own a standard, mainstream biker leather jacket and have a pair of funky, vibrant tie-dyed jeans? Do you have the desire to stand out despite wearing the biker leather jacket that everyone wears all the time?
Picture Courtesy – Steal Her Style
All you have to do to customize your appearance is wear glossy, colorful jeans, jeans that stand out in the crowd because of the popping colors. You can wear a white tank top underneath the jacket to keep the rest of your look simple.
4.   Wear a brown leather jacket with cropped jeans –
The cropped jeans will give you the distressed, lived-in-it-my-whole-life feel if you want to go light on the colors. If you also want to blend into the crowd, the outfit style for you should be a distressed brown leather jacket paired with faded, washed-in cropped jeans.
Picture Courtesy – Pinterest
5.   Wear a burgundy leather jacket with gray or white jeans –
Naturally, one would get bored of wearing the same old, black, brown leather jacket. So, why not spice things up a bit? How? You can do it by picking up a burgundy-colored leather jacket when you go shopping and wear it with neutral, light-colored jeans so that your burgundy jacket always stands out.
Picture Courtesy – Pinterest
Tips on how you can style your leather jacket: A guide to the types of leather jackets –
Leather jackets go along with all kinds of outfits. Once you add a leather jacket to your attire, you can't help but benefit from it. It doesn't matter if you have a budget constraint. It doesn't matter if you don't have the perfect outfit for a particular occasion. It doesn't what kind of fashion style you portray usually.
There will be a leather jacket for you that will solve all your demands, needs, and problems.
So, go over this list because it contains most of the types of leather jackets that have ever been introduced in the fashion industry.
1.   Wear a faux leather jacket –
Are you vegan? Are you an animal-friendly person? If yes, then you might want to switch on to a vegan faux leather jacket from a real leather jacket. It will give you a rockstar vibe while keeping your animal-friendly tastes in mind. Usually, these leather jackets are shiny and seem to be cheaper than they are.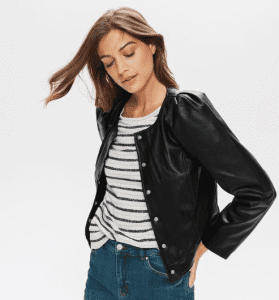 Picture Courtesy – Promod
2.   Wear a red leather jacket or a pink leather jacket –
We have said it before, but, we will say it again and again, till you grasp it. Your jacket doesn't need to be of the traditional colors only, like black and brown. If you have the confidence to flaunt other vibrant colors like cherry red or neon pink, go for it!
Also, there is a whole spectrum of red and pink shades. It means you have more than enough options to choose from once you get bored with one shade.
Picture Courtesy – TheLeatherCity
3.   Wear a warm yellow leather jacket or a tan leather jacket –
Yellow is considered to be the warmest color. If there is any color that can warm up even the coldest of weather, it is yellow. Sometimes, it can be saffron. A yellow jacket paired with a white top and white jeans can brighten your bubbly nature even more.
Even though it takes guts to try such a sunny color, it would be fun to do it because it goes with all skin types. Also, if you aren't a risk-taker by personality, you can opt for a tan-colored leather jacket. It would have the same effect.
Picture Courtesy – 123RF
4.   Wear a leather jacket with a collar that is furry –
When winter season hits you hard on your face, opt for a  jacket with a furry collar. It will give you an edge over the biting cold and make you look stylish simultaneously. Two tips for you –
Decide whether you want a big furry collar or a small furry collar according to the outfit you have chosen for that day.
Also, you might want a contrasting t-shirt and jeans to make the jacket pop out.
Picture Courtesy – Lyst
5.   Wear a leather jacket with fringes at the bottom –
There are endless ways to amp up your look. One of those endless ways is by opting for jackets with fringes. It will enhance your fashion ball game. You will look fantastic and turn every head towards you as you walk through that restaurant door.
It is perfect for battling the cold while looking gorgeous at the same time.
Picture Courtesy – Fashion Gone Rogue
Miscellaneous tips on how you can style your leather jackets –
Do you own a white dress with laces or meshwork in it? Have you been looking for an outfit to pair it with for the work dinner party due tomorrow? Put on the traditional black leather jacket on top of it and then you will be done.
Picture Courtesy – becomechic.com
●      It is the favorite outfit of all tomboys. Once you pair it up with a white, knitted sweater and a biker hat, you have the perfect look to soothe all eyes; those eyes which judged your tomboyish fashion sense forever.
Picture Courtesy – becomechic.com
Our last message on how to wear a leather jacket –
We believe that every woman has at least one pair of leather jackets in her wardrobe. Are we wrong? The only issue with wearing leather jackets is that they can give a monotonous look to your physical appearance.
How to deal with this issue?
It is easy. All you have to do is incorporate those styling tips we have given in the list above. Hope you got some fun ideas!