Fashion
Outfits to Wear at an Amusement Park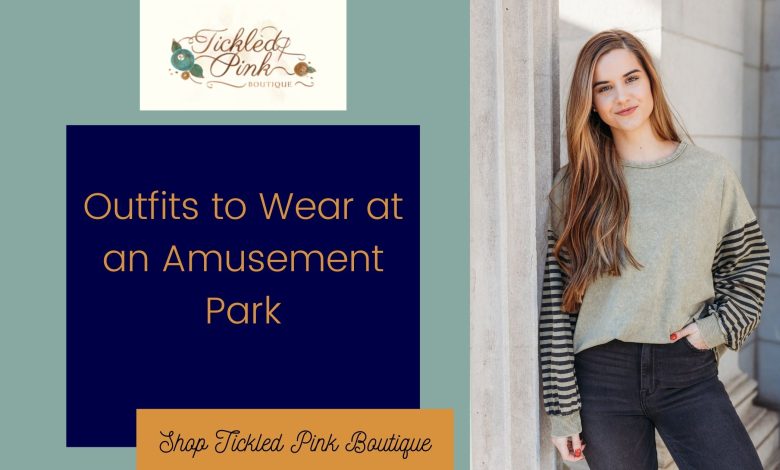 Everyone loves the amusement park – there is something for everyone! Whether you like thrill rides and roller coasters or prefer to stay on the ground and enjoy a carousel ride, there is an attraction at every amusement park that suits your needs.
However, most people do not think about what they should wear when going to an amusement park. The outfits you wear can make or break your day. If you dress comfortably, you can enjoy as much as possible, but if your outfit is constricting and uncomfortable, it could ruin the whole experience for yourself and those around you! Scroll down to see some gorgeous outfit ideas and outfits from women's online clothing stores that you can wear in theme parks and jazz up your appearance.
Fun Days at amusement parks – But what to wear? 
So, where to start? Well We've prepared a list of outfit ideas that we believe you'll find helpful when visiting a theme park the next time.
Let's have a look at some fantastic outfit ideas to wear to an amusement park – from those who love being on the ground as much as possible to those who want to enjoy rides and have fun!
A cute, comfortable dress
A dress is always a good choice! Dresses are so easy to style, and they look amazing on everyone. Opt for one that has some good stretch in it so you can enjoy yourself without worrying about your comfortness. Go for one that is not too revealing but has a fun pattern or design, and you will be sure to look good! This Tickled pink dress is perfect for one that gives you comfort, coolness, and some great fashion sense that you are seeking for. So get in one that fits you properly and stay chic and comfy all day long.
A comfy pair of shorts
You don't want to be stuck in too hot pants, or that could end up suffocating you between all the exciting rides, so shorts are always a good option. You can style your shorts as you wish, but make sure you choose shorts with some stretch since amusement park rides might be a little too much for some fabrics. Complete your look with trendy women's tops, minimal accessories, and sneakers to glam up your look. 
A lovely, comfy cardigan
Cardigans are great to have, whether you want them for pockets or just because they're cute. They look good on everyone and can be worn over almost anything – so if you need some extra warmth on a ride, it will always come in handy! There are many different kinds of cardigans at boutiques stores online, so you can go for one that has a pattern or design you like, and it will be the perfect addition to your outfit. 
Rompers
Rompers are an excellent choice for amusement park outings because they're super comfortable and easy to wear. You can wear them as is, or you can even dress them up with accessories if you want! If you want an elegant look, then go with floral prints. They are a perfect choice for parks. Style your rompers with a pair of white sneakers, and yes, you are all set to rock your look at the amusement park. 
A cute mini skirt
Cute miniskirts are always a good idea because they go well with everything, and you can wear them on almost all amusement park rides. Also, they look great paired up with any of the pieces you want! Also, make sure to pick one that is comfortable for you – after all, the last thing you need is for it to fly up while riding a roller coaster and cause a scene.
Long maxi dress
Dresses are always an excellent choice for amusement park outings. Not only is it easy to put on, but it will also keep you cool and comfortable throughout your day at the park! So opt for a white floral dress so you won't get too hot and look elegant. And also, make sure to have some good sandals or wedges with it!
Joggers
Comfortable and casual, joggers are among the best choices for amusement park outings! They're great if you want to be able to run around with ease – plus, they'll come in handy when your legs feel weak after all that fun on the rides! Just make sure to wear them with a lovely, cute top or dress, so it doesn't look too baggy! 
Shirts with fun designs
A shirt is always a good choice since they're so easy to put on! They look good on everyone and can be worn over almost anything – so if you need some extra warmth, it will always come in handy! The marvelous thing about the shirt is that you can wear it in various ways and add it over a tank top for extra warmth.
Denim Jacket
Wearing a denim jacket is always comfortable and looks good on everyone, so you can't go wrong with it! It will be able to keep you warm if the weather turns out cooler than expected or if some rides get too windy. You can also wear it over your dress or cardigan if they aren't giving enough coverage – make sure to pick one that goes well with your outfit!
Wrap up
So there you have it! The best outfits to wear at an amusement park! Whether you want to dress up or be comfortable, these are all great choices that will help you have a super fun day with your friends and family. So what are you waiting for? Get yourself some of these cute clothes from women's online clothing stores and head on out to the park!