Business
India Electric Rickshaw Battery Market Will Hit $295.4 Million Revenue by 2030
India Electric Rickshaw Battery Market Outlook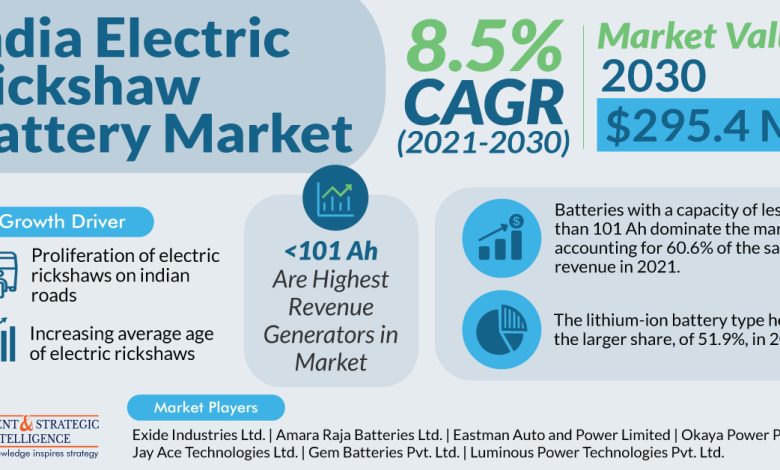 India Electric Rickshaw Battery Market Overview
The three-wheeled, electric-powered e-rickshaw is mainly used for commercial passenger and cargo transportation. E-rickshaws are sometimes referred to as electric tuk-tuks. An electric drivetrain and batteries propel the vehicle. The India electric rickshaw battery market is expected to reach $295.4 million by 2030.
Electric three-wheelers are becoming increasingly popular since they are the most practical and economical transportation for short distances. Moreover, 83% of the industry is now occupied by these three-wheelers. Approximately 1.5 million electric rickshaws are already in use in India, and 11,000 more are sold monthly.
A solar-powered electric rickshaw can recharge itself while it is in use since it is equipped with photovoltaic technology, which converts solar energy into electric energy to drive the rickshaw. The solar panel extends the vehicle's longevity by 10 years, and the solar-powered versions are expected to be more effective than conventional e-rickshaw.
In addition to providing improved riding conditions over short distances, e-rickshaws are also very advantageous for secure, safe, and environmentally friendly communication. Similarly, utilizing E-rickshaws has many benefits, such as:
Zero Pollution and Inexpensive Maintenance –
This is arguably the most significant and crucial benefit of this contemporary automobile. An e-rickshaw doesn't use gasoline or diesel; it operates on batteries. They are 100% environmentally friendly and safer because they don't release harmful gases or smoke.
The essential thing to remember is that an e-rickshaw requires very little maintenance; it only needs a good battery and formal care once a month. Even changing a spare part on an e-rickshaw may be accomplished without effort.
High Income Generation at Lower Costs –
An e-rickshaw produces a respectable revenue with little operating costs. People who are considered to be below the poverty level may consider purchasing an e-rickshaw to increase their monthly income significantly.
Additionally, there won't be a requirement for frequent maintenance or the purchase of pricey fuels like gasoline and diesel. These economically vulnerable individuals won't experience any adverse effects from the regular price increases of such powers.
Improved Turning Radius –
E-rickshaws are ideal for usage in congested locations and on busy roads since they have a greater turning radius than regular auto-rickshaws. When there is traffic congestion or tight roads, e-rickshaws are the best and most practical option.
<101-Ah Batteries Generate Most Revenue
Batteries dominate the Indian electric rickshaw battery market with a capacity of less than 101 Ah, which generate 60.6% of sales. Due to end users' desire for inexpensive e-rickshaws, the category is anticipated to maintain its dominance over the next few years.
This is also due to the influence of disorganized local competitors, who produce inexpensive e-three-wheelers. Most of the country's electric rickshaws utilize SLA batteries because of their inexpensive price.
SLA batteries may first appear to be a better option, but if they are not correctly disposed of, they represent a significant risk to the environment and human health. Because lithium-ion batteries are safer and can recharge cars for longer than SLA batteries, manufacturers are putting more emphasis on utilizing them instead of SLA ones.
Detailed Analysis of the India Electric Rickshaw Battery Market Demand Analysis
Size
Batteries with a less-than 101-Ah capacity have a 60.6% share, due to an increase in the preference for low-cost e-rickshaws among end users. It is owed to unorganized local players' dominance in the market, more specifically those who manufacture low-cost electric three-wheelers. Moreover, the market is predicted to experience a faster growth rate in the near future, due to the rising demand for <101-Ah batteries, caused by the surge in e-rickshaws that travel longer distances without any need for frequent charging.
The unorganized, local players in the Indian electric rickshaw battery market have enjoyed the major share of the revenue pie ascribed to their local and small-scale operations, and delivery of substandard quality electric three-wheelers with a life of approx. duration of 1.8 years. Moreover, the advent of the GST has led the market to get consolidated due to the higher manufacturing cost of electric rickshaws. It resulted in increased preference of the consumers for reliable products.
Market Share
Moreover, organized manufacturers capture 48.8% of the Indian electric rickshaw battery market, due to the increased quality of the products over the years, caused by the more structured and organized market. The established manufacturers offer electric rickshaws with an average life duration of 3.5 years. The increase in the average age of e-rickshaws snowballs the batteries' demand, caused by the replacement of the older ones. It can be concluded that the rise in the E-rickshaws average life leads to rising in battery demand.
Under the battery type segment, the Indian electric rickshaw battery market is divided into lead-acid and lithium-ion. The lithium-ion battery has captured the larger market share, of 51.9%, and their sales for e-rickshaws are expected to value at $196.1 million in 2030, caused by the presence of the standard industry sizes that are up to 60% lighter and up to 50% more in energy storage capacity than SLA variants. In addition, the low self-discharge rate contributes to the maintenance of the state of charge for a longer period.
Trends
The surge in electric three-wheeler demand is caused by the ease of convenience and inexpensive nature of transportation it offers for short distances. Already in India, 83% of all the EVs sold are three-wheelers. On average, the country has 1.5 million electric rickshaws, with an additional sale of 11,000 per month. This number is expected to be even bigger in reality due to a massive number of unregistered vehicles.
The Indian electric rickshaw battery market is characterized by the presence of several players, attributed to the various strategic developments to stay on the competitive edge. For example, SVOLT Energy Technology of China in partnership with Exide Industries Ltd. manufactures lithium-ion batteries. It provided both companies support to emerge as new-age electric mobility and stationary application businesses.
Therefore, the increased life span of the electric rickshaws, caused by organized manufacturers propel the market with the surge in the requirement for batteries.
This study covers
Major factors driving the market and their impact during the short, medium, and long terms
Market restraints and their impact during the short, medium, and long terms
Recent trends and evolving opportunities for the market participants
Historical and present size of the market segments and understand their comparative future potential
Potential of on-demand logistics services, so the market players make informed decisions on the sales of their offerings
The competitive scenario of various market segments across key countries in several regions for uncovering market opportunities for the stakeholders
Major players operating in the market and their service offerings
P&S Intelligence
P&S Intelligence provides market research and consulting services to a vast array of industries across the world. As an enterprising research and consulting company, P&S believes in providing thorough insights on the ever-changing market scenario, to empower companies to make informed decisions and base their business strategies with astuteness. P&S keeps the interest of its clients at heart, which is why the insights we provide are both honest and accurate. Our long list of satisfied clients includes entry-level firms as well as multi-million-dollar businesses and government agencies.
Contact:
P&S Intelligence
International: +1-347-960-6455
Email: enquiry@psmarketresearch.com
Web: https://www.psmarketresearch.com
The research offers a market size of the global India electric rickshaw battery market for the period 2017–2030.
Vehicle
Passenger Carrier
Load Carrier
Battery Capacity
End Use
Original Equipment Manufacturer (OEM)
Replacement
Battery Type
Segmentation by State
Madhya Pradesh
Uttar Pradesh
Delhi
West Bengal
Rajasthan
Bihar
Haryana
Chhattisgarh
Uttarakhand
Punjab
Jharkhand
Assam
Tripura
Rest of India