Communications
Internet and Businesses
How to delete your Instagram account permanently in 2021
Are you getting bored from Instagram? Here's how you can temporarily disable or permanently delete your Instagram account
Being an Internet user, there are high chances that you must be using social media account on websites like Facebook, Twitter, Instagram, and many others. To use these applications, you must need a social media account. Accessing these applications, you must be sharing your personal information and data on the internet. Meanwhile, You share this data keeping in mind that these applications to have access to some of your data.
You must also know that these social media platforms can easily snoop into your personal lives by accessing this type of personal data. Looking forward to such information, many users are now disabling or deleting their social media account. Reading this you also must be feeling insecure about your personal data. Many peoples are now choosing the option to disable and delete their social media accounts permanently. Yes, we all know this is an extreme move, but what else can we do other than deleting these accounts.
Currently, Instagram is having more than 1 billion active users globally. Also, this number is growing at a very rapid pace. Still, there are users who want to get off this photo-sharing app. You can also disable or delete your account permanently, by following these steps:
How to disable an Instagram account temporarily?
Open your Instagram account on Desktop (Cannot be disable using Mobile App)
Login into your account by entering account credentials
Click on Profile Picture in the top-right corner
Click on the "Settings" option
Scroll down at the bottom end of the page
Select this option "Temporarily disable my account" link.
You have to specify a good reason to delete your account.
Enter your account password
Click the option of " Temporarily disable account"
Following these steps, you can easily disable your Instagram account temporarily from the platform. From this step, you will not be able to post any content to your account. Also, other users can not view your Instagram profile until you log back in. However, in this process, you can log back in again by in the same account entering your account credentials.
Keep in mind, that there is no option to recover your images after deleting your account. So it is advised to always keep a backup of all your images and videos that have been posted on Instagram. These media files can be saved locally on your desktop before permanently deleting your account.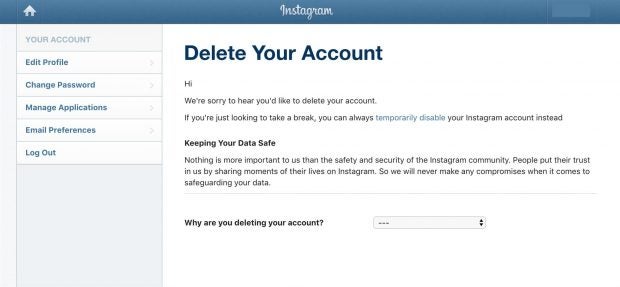 How to delete an Instagram account permanently?
If you have made this extreme decision to permanently delete your Instagram account, then you can follow these steps:
Note: Instagram features a dedicated page for those who want to delete their account permanently
Firstly, Open your Instagram application on your desktop
Login to your account by entering account credentials
Select the actual reason behind deleting your Instagram account
Now, you have to re-enter your Instagram account password.
Select this option that reads "Permanently delete my account"
With this step, your Instagram account will be deleted permanently.
Now, you cannot re-access your Instagram account. Also, with the permanent delete option, all your shared images and videos will be deleted permanently and you cannot access them back. Learn more about other social media platforms on IMPULKITS. Check out more posts