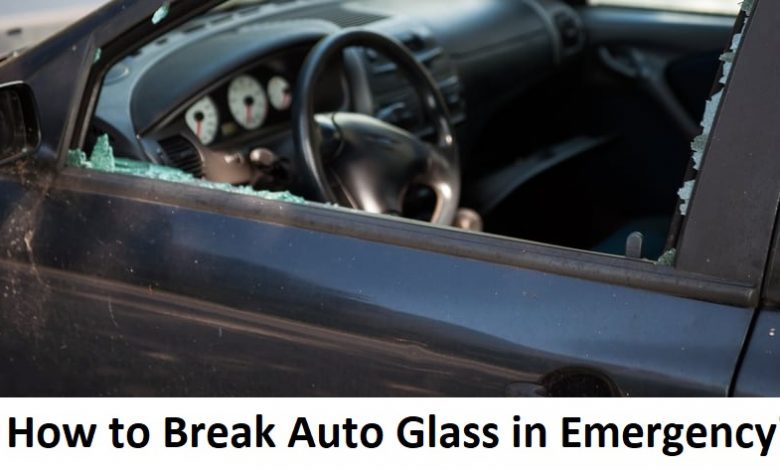 Emergencies come barging through when you least expect them. On a pleasantly good-going day you could find yourself stuck in the rain and your auto window or door locks just won't work, or maybe you see a pet or baby stuck inside a car under blazing heat, or your car gets stuck in a water body, or you forgot your keys inside the car- any of these situations can happen to you and you need to be prepared for Breaking an auto glass.
Breaking an auto glass for these emergencies without panicking or causing a ruckus and attracting the wrong type of attention is something you should know beforehand. If there comes a time when you're at the mercy of your own self, your skills, and the things you have at that moment then quick thinking and knowing key the things about how to get out of that situation will help you save your and other lives.
In this blog we'll discuss different ways of breaking an auto glass in case of emergencies:
Different Ways Of Breaking An Auto Glass In Case Of Emergencies
Household Tools:
Some of the most random things you see lying around your house becoming a lucky charm that saves you from a life-threatening situation are not something we would take seriously. But what if I were to tell you that the old-worn out pillowcase you were throwing out, some duct tape, any heavy object can help you break the glass of your car without making too much noise.
You can duct tape the window you want to break, then wrap that random piece of clothing around the heavy object you have with you and then break the glass with that. This will help in softening the noise and make less of the scene if you were just getting your keys from the locked car. The duct tape around the window will hold the broken glass together and you can remove it more easily without hurting yourself.
When you wrap the window and the object you're going to hit it with you have to make sure that you use your full arm's strength and break the glass in 1 or 2 goes. Because in this situation, little force applied won't break the glass and you'll more likely tire yourself for nothing.
I'm not saying that you collect piles of useless trash but just be mindful of what you throw away and keep whatever that you think can help you in emergencies. If you managed to break the glass and are now left with a damaged car then head to our website and get the best car sales in Tanzania at economical prices.
Spark Plugs:
Now, say you were locked outside of your car or see a child or pet stuck inside a car and are unable to get it for any reason. In this situation what you would need is a spark plug or a piece of porcelain. The windows of a car are made up of tempered glass due to which it has a compressive surface that gives it reliance and durability. But if impacted with a sharp aluminum oxide object such as the porcelain from the spark plug it can break into countless small pieces.
When you're breaking the glass of the window, get a spark plug and break it to get the porcelain piece from it. Now through it at the window with as much power as you can. This will either crack the glass enough for you to break through it or shatter it completely.
In a situation where you don't want to hurt anyone present inside the car then target the center of the window when hitting it with the piece of porcelain. This will allow the window to crack in the middle making it look like a spider web. Now you can just wrap a cloth around your hand and break through the window by punching it in a bit and save whoever you were going to. If you forgot your car keys inside and have no worries about hurting anyone then target the corners of the window which will shatter it completely. If you successfully broke the glass but are left with a damaged car then head to our website and get the best car sales in Tanzania.
Emergency Hammer:
If you're the type of person who likes to be prepared for whatever storm that comes your way then an emergency hammer in your car is a must. This neon orange handy tool will not only help you break the window of your car in case of emergencies but also allow you to cut the seat belt.
The sharp edges of the hammer will break the glass without taking too much strength and making too much noise. The blade at the bottom of the hammer will cut through the seat belt and let you be free seamlessly.
EMT Device Or Any Sharp Tool:
If you have a medical kit with any sharp EMT device then you can use that for breaking the auto glass of the window. Cover the glass of the window with duct tape to make less of a mess and then use that sharp tool, target it at the center of the glass, and then hit it with as much force as you can. If you managed to break the glass but don't like your damaged car then head to our website and get the best car sales in Tanzania for the best price range.
Steel Punch:
Carpenters use steel punch to mark an indentation to see where to drill. If you have this tool with you then point it at the corners of the window and then release the spring. The punch effect will then make a hole in the window and you can break through the rest of the window easily.
Some Safety Precaution You Should Take Before Breaking The Glass:
Always keep a piece of clothing or towel in your car at all times. This will help you to prevent any injury from glass piercing your skin. Wrap that piece of clothing on your hand when you break the glass so that when it shatters you won't get its smaller pieces piercing through your skin.
Also, make sure to cover your eye when doing this so that the glass doesn't get in your eyes and cause more damage than the situation warranted. You can break through the window with any sharp object but that would be a bit more difficult than just doing it with an emergency hammer or spark plug. So, remember to always have the basic necessities with you in the car and outside of it as well. If you managed to break the glass, cut through the seat belt, and are left with a damaged car then head to our website and get the best car sales in Tanzania for the best pricing.
Conclusion:
Listed above are some of the tricks and techniques you can utilize to escape from a dangerous situation or saving someone else from it. Spark plugs, pieces of porcelain, an emergency hammer, and any sharp sturdy device can help you break the glass in case of emergencies with some requiring more effort than the other.
Make sure that your eyes, face, and rest of the body are protected before you go on about breaking the glass. Say you were just going to break the glass to get your keys from the inside but ended up hurting your eyes or injuring your hands instead.
To avoid these situations just wrap your hand with a towel, jacket, or any piece of clothing you have near you. Cover your eyes by wearing shades and then proceed to break the glass. With broken windows and torn seat belts, if you want to sell your damaged car then head to our website and get the best car sales in Tanzania.