Uncategorized
Hire a logistic aggregator to streamline your e-commerce business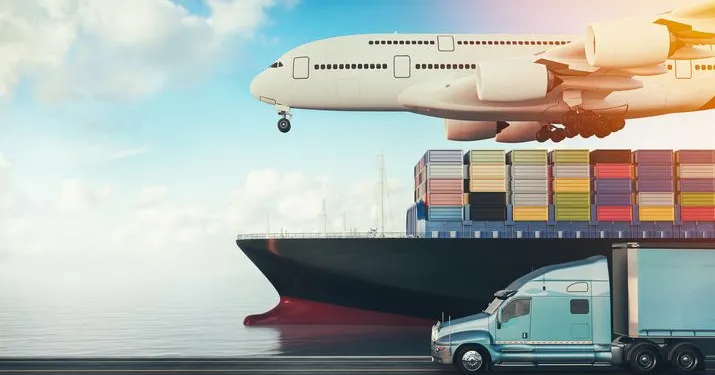 When running an e-commerce business, you often face daunting obstacles in streamlining your logistics and e-commerce warehouse operations, as it is one of the most challenging
facets of conducting online business. Maintaining supply chains with robust warehousing is not everyone's cup of tea, which requires the expertise of professionals who have skills and knowledge in the field.
Although many e-commerce heavyweights like Amazon manage their own logistics needs, startups and small-scale businesses continue to outsource
their e-commerce logistics to a third-party logistics provider (3PL) or a logistics aggregator.
Online retailers collaborate with third-party logistics (3PL) service providers to handle delivery-related difficulties such as inventory, packaging, shipping, warehousing, and shipment tracking.
The Indian e-commerce logistics market was valued at US$ 2.9 billion in 2019 and is predicted to increase at a CAGR of 18.8% from 2020 to 2027, reaching US$ 11.5 billion.
The development of India's e-commerce logistics business is fueled by the advent of many online sellers who simply cannot afford to channel their
supply chains and rely on 3PL providers for end-to-end e-commerce shipping solutions.
All You Need to Know About Logistics Aggregators
Logistics aggregators are third-party logistics providers who work in integration with multiple courier partners to provide e-commerce merchants with multiple shipping options on a single platform.
Typically, shipping aggregators provide a variety of shipping services from many carriers, giving businesses more freedom to select the best shipping solution as per their business requirements.
They usually provide reductions in shipping costs as well, which helps online merchants in investing more economically.
Businesses get to invest more time and resources in other areas of their retail operations since logistics aggregators can engage skilled professionals to
handle the shipping and fulfilling needs of e-commerce companies.
They act as a middleman between courier partners and e-commerce merchants, offering trustworthy shipping services throughout periods of peak demand.
What Benefits Can You Get from Hiring a Logistics Aggregator?
Substantially lower logistics expenditures
According to the 2016 State of Logistics Outsourcing Report, more than 90% of e-commerce businesses chose to contract out the logistical aspect of their organization to a credible logistics aggregator.
More than 70% of the respondents claimed that by using a logistics aggregator platform, their overall logistics costs were reduced.
Cheaper system investment
Modern technology is used by logistics aggregator platforms to efficiently manage warehouses and transportation systems.
Your company will be able to save money by not having to buy the complicated software and other technological tools needed in maintaining logistics.
Despite the fact that you will have to pay a little sum for these overhead costs, the cost will be shared among various clients and won't ever put a big financial strain on your business.
Fleet maintenance is not required
If you engage with the right logistics aggregator, you will have the option of dedicated contract carriage.
You will benefit from private fleet advantages without having to pay for trucks, and drivers, maintain equipment or deal with compliance and liability issues that could lead to fines, lawsuits, etc.
All of this will allow you to save a lot of money while still providing your clients with timely and secure deliveries, fulfilling their expectations.
Having a variety of courier partners
Sellers have the choice of selecting whichever courier partner they desire, and that too within their proximity, all because of logistics aggregators' capacity to collaborate with a variety of courier companies.
An e-commerce merchant can easily pick any of the courier partners from one single platform that logistic aggregators provide.
Sharing of freight costs
Truck aggregators can arrange for the quick shipping of full truckloads of various merchandise in India.
Because of this, the aggregator will have other clients who also need to deliver goods to the same place, even if your company just has to send a few shipments to a specific location.
To save you money by dividing the cost of shipping and delivery, all of these items will be sent to you in a single shipment.
Additionally, the shipping aggregators you worked with will assume responsibility for any faults or accidents that happen while shipping.
Better exposure to new markets
When you are starting fresh in e-commerce logistics, everything gets messy and challenging.
This includes purchasing vehicle fleets, leasing storage space,
hiring and training delivery personnel, etc., which consumes a hell lot of time and resources.
However, a reputed logistics aggregator like NimbusPost can help you easily enter a
new market and reach customers in a location where you lack the required infrastructure or logistical capabilities.
They will single-handedly manage all your deliveries, inventory, e-commerce warehousing, and fulfillment.
A logistics aggregator company will not only provide you with an
opportunity to scale up your business but also help you in managing bulk delivery orders during peak shipping seasons every year.
Conclusion
For reliable and cost-effective e-commerce shipping solutions,
hiring a competitive logistics aggregator for your online business would be a decision that you certainly won't regret afterward.
Also, if you are looking for a shipping provider that can get you wallet-friendly rates,
then NimbusPost is the right partner for you. As a logistics aggregator software platform
NimbusPost is dedicated to assisting MSMEs and even major corporations in streamlining their end-to-end logistics operations through
cost-effective shipping (domestic and cross-border), warehousing, and fulfillment solutions.
Across the nation, the business collaborates with over 27 different courier partners, including Blue Dart, Delhivery, XpressBees, DTDC, and Shadowfax.
If you're looking to sell your products internationally, it's important to know whether or not they contain dangerous goods. Dangerous goods are any materials that could pose a risk to the safety of those handling them during shipping. This includes items like chemicals, explosives, flammable liquids, and poisonous substances.
If your product does contain dangerous goods,
you'll need to take special care when shipping it cross-border depending on the type and quantity.
Dangerous goods defined by International Air Transport Association are prohibited from cross-border shipping. If your product is flammable, corrosive, explosive, poisonous, or otherwise dangerous,
you need to check if it's allowed on international flights.
In modern days, lithium-ion batteries are the most common dangerous goods
that are sent internationally, and specific labeling procedures are required to ensure safe transport.
The United Nations' recommendations on the transport of dangerous goods
provide detailed guidance on how to label shipments of dangerous goods, including lithium-ion batteries.
For example, when shipping lithium-ion batteries, the following information must be included on the label:
The proper shipping name of the battery
The UN Number
The class
The packing group
The hazard warnings
In addition, the lithium-ion battery must be properly packaged and secured to prevent damage during transit.
Failure to follow the proper labeling procedures for shipping
lithium-ion batteries can result in delays, fines, or even confiscation of the shipment.
It is important to consult with a shipping company or other expert before attempting to ship lithium-ion batteries internationally.