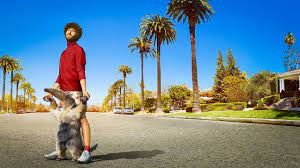 Fans of intelligent, hilarious television, rejoice! The third season of the Lil Dicky show "Dave" has been picked up by FX. The announcement comes at a time when the network has been announcing a lot of information about its future, including the renewal of shows like "Fargo" and the announcement that "Atlanta" will conclude after its fourth season later this year. But Dave Burd's journey is still far from over.
There aren't many details about "Dave" season 3 that have been confirmed as yet. There is currently no information available on when production will start or when it will air. Season 2 premiered last year and was well received, garnering high ratings in addition to critical acclaim. It rose to the status of the network's most watched comedy series ever after the first season. As a result, the renewal is not unexpected. Working around Burd's schedule is actually all that is necessary because he also has his rap profession as Lil Dicky to take care of.
The play, which serves as a fictitious depiction of the events and charts Lil Dicky's ascent to popularity, is based by what Burd actually went through. It also has a lot of realistic elements because Burd, who is a key star in the programme, portrays himself as well as his real-life hype man and musical companion GaTa. GaTa's battle with bipolar disorder, which he also faces in real life, has been prominently featured in the show.
Not merely a lighthearted rap show
"Dave" is hysterically funny but also has a lot to say, much like how Lil Dicky's music contributes to the success of the show. The show doesn't hold back when it gets genuine, and Burd doesn't present himself as a hero. No matter how ugly any of it may be, he exposes his life and insecurities. However, in the end, that also helps the comedy of the programme.
The strongest episodes of the show to far have taken unexpected emotional twists, like the season 1 episode "Hype Man," which delves deeply into GaTa's mental health difficulties. The season 2 finale also caused a significant rift between Dave and GaTa before coming to a truly beautiful conclusion with the couple sharing the stage at the VMAs in a heartbreaking moment. The likelihood is that we'll pick up with Lil Dicky and the crew after they've returned from the tour we saw in passing at the end of that episode Dave Season 3.
Burd and Jeff Schaffer, in addition to Saladin K. Patterson, Ben Sinclair, Luvh Rakhe, Kevin Hart, Scooter Braun, Greg Mottola, Marty Bowen, Mike Hertz, James Shin, and Scott Manson, are the show's executive producers. Taylor Misiak plays Ally, Andrew Santino plays Mike, Travis Bennett plays Elz, and Christine Ko plays Emma in the show.
You Must Watch Programs Like It's Always Sunny In Philadelphia
No one really anticipated the early 2000s pilot for the show that would eventually become "It's Always Sunny in Philadelphia," which was produced by a bunch of struggling Los Angeles actors, to succeed. But it has since gained enormous popularity and, with its 15th season in December 2021, will become the longest-running live-action American sitcom. It's an easy idea to grasp: Four friends who also happen to be rivals occasionally own a bar in Philadelphia where they indulge in increasingly nefarious plans. As the series progresses, it becomes impossible for them to resist becoming more and more evil. It is the logical progression from sitcoms from the 1990s; in contrast to the former, which were cynical, "It's Always Sunny in Philadelphia" is outright pessimistic.
But if you're a fan, you tune in for the combative attitudes and absurd beefs. Although some would contend that "It's Always Sunny in Philadelphia" is unique, if you're seeking for something with a similar atmosphere, there are plenty of other comedy shows that will do in a pinch.
Read About More
If you've seen "It's Always Sunny in Philadelphia," you're probably aware that the four main characters' workplace, Paddy's Pub, an Irish-themed bar in Philadelphia, serves as the show's principal setting. So how could we discuss that without bringing up the most well-known sitcom to have ever been set in a bar? "Cheers" is correct. "Cheers," which ran for 11 seasons starting in 1982, starred Ted Danson as Sam Malone, a former Boston Red Sox baseball player who now owned a bar (perhaps not the finest career move for an alcoholic in recovery, but we're not here to pass judgement).
The bartenders and patrons who frequent Cheers are the show's largest and most adored ensemble cast, and they help to create a welcoming, friendly, and funny ambiance. No other show comes close to emulating the cosy experience of going to a local bar and speaking with the regulars. With an astounding 28 Emmy Awards won throughout the course of its career, "Cheers" is a legitimate contender to be named one of the greatest sitcoms of all time.
'Cut Your Effort'
If you watch "It's Always Sunny in Philadelphia," you would assume that the Paddy's Pub crew has way too many quarrels, yet Larry David is far superior to them. On "Curb Your Enthusiasm," the infamously misanthropic showrunner of "Seinfeld," who lives in Los Angeles and frequently finds himself in sticky situations, plays a barely exaggerated version of himself. The majority of the time, however, they are the result of Larry either sticking too tightly to a strict interpretation of social cues that he believes have worth or entirely dismissing those that he regards as meaningless. Sometimes these are brought on by hilarious misunderstandings Dave Season 3.
This is a man who will be annoyed for a week if someone sits next to him without leaving a space between them, but who finds it strange if someone asks you to remove your shoes inside their home. Uncomfortable to live with, but funny to observe With 11 seasons and an incredible 47 Emmy nominations (although it has only won twice), "Curb Your Enthusiasm" has been airing on HBO.
But in Silicon Valley, the path to success is seldom easy: When he appears to be making progress, someone appears and throws him back into the muck. Hendricks will struggle to keep his priceless app alive with the help of his brave band of misfit coders and hype men (played by Kumail Nanjiani, Martin Starr, and Zach Woods), while also giving a gigantic middle finger to media conglomerate Hooli (a subtly allusive reference to Apple).