Health and Fitness
FemTech ‒ Innovative Alternatives to Cater to Biological Needs of Women
The global femtech market size was valued at USD 18.75 Billion in 2019 and is anticipated to reach USD 60.01 Billion by 2027 at a CAGR of 15.6% through the forecast period.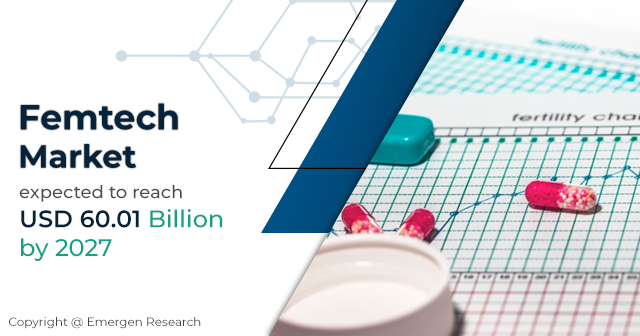 Over the last decade, technology has taken a massive leap to bring about fairness in gender disparities, leading to the advent of technologies explicitly focused on female health. The emergence of these technologies has developed a female-centric health technology market that leverages advanced technology to monitor women's health and overall wellness. As a consolidated industry, femtech refers to the use of any digital or standard health tools that aim to track female health, such as wearables, mobile apps, hygiene products, and connected medical devices, among others.
FemTech ‒ The Market Status
As gender becomes a hot topic for discussion while talking about health disparities, so does the importance and potential of femtech for women's health. Women's health sector continues to evolve as gender equality continues to grow and influence product innovations. According to the statistics, in 2019, investments in the femtech industry rose from USD 310 million in mid-2019 to a whopping USD 800 million by the end of 2019. The femtech market is poised to be the next big disruptor in the healthcare market and is set to attain a valuation of USD 60.01 Billion by 2027, at a CAGR of 15.6%, according to the latest analysis by Emergen Research.
What exactly is FemTech?
FemTech, coined in 2016 by Clue founder Ida Tin, is primarily applied to a category of digital products such as period-tracking apps, wearable, connected devices, and fertility tracking apps, among others. FemTech is a portmanteau for "female technology" and is used to define tools that leverage advanced tech solutions to improve the quality of women's health in several health areas, such as:
Fertility Solutions
Reproductive Health Care
Menstrual Tracking
Chronic Conditions and Hormone Disorders
Sexual Wellness
and Overall Health
FemTech rose in popularity after the advent of the first period and fertility tracking app, Clue, in 2016. Since then, the idea of amalgamating digital solutions and women's health has been on the forefront while developing healthcare strategies. While the femtech industry is still in its nascent stage, it is poised to expand exponentially over the coming years.
With the rapid advancement in technology, nearly 50% of the femtech industry is occupied by apps developed for pregnancy and fertility tracking. As the segment continues to observe rapid expansion, digital startups aimed at women's health are starting to gain well-deserved attention.
Digital Health Tools for Women Are Now a Necessity ‒ Experts' Opinions
Women's health is a lucrative market for technology and its innovation as it has the potential to be applied regularly. Ida Tin, who founded the fertility tracking app ‒ Clue, in the past has hinted towards the emergence of women working in the tech sector and the growing need for data-driven insights about health and wellness.
Moreover, with women combining their careers with family, instead of either/or scenario, it has reportedly boosted the need for systemic and sophisticated tools that can help them manage their lifestyles. According to Deborah Anderson-Bialis, co-founder of FertilityIQ, an IVF concierge app, "A lot of research out there is really out of date, so when a woman or couple goes to educate themselves, they may not have gotten the best information about how to proceed with getting pregnant." She further added that with the demographics of today's parents, digital tools to streamline that processes are essential.
Similarly, women typically return to work after having a baby, and they are often looking for more knowledge to help take better care of themselves and their child when they resume their professional career. This is where devices such as connected breast pump and bottle come into play. One of the best connected breast pumps, developed by Naya Health, helps the women understand the behaviour of their babies and offers actionable insights in preventative health. According to Janica Alvarez, CEO and co-founder of Naya Health, "Eighty percent of women in the U.S. start breastfeeding, but there is a steep decline when they go back to work, because there are not a lot of accommodations in the workplace, so only half of the women get accommodation, 25 percent go back within two weeks. We need better solutions, and we need the data because, without the data, we don't really understand our own behaviour and how we can create a better solution."
According to these experts, increasing sophistication and incorporation of artificial intelligence has paved the way for a future where family planning through an app is a possible future. People have started relying on data to understand birth control across the world and what will augment their adoption is the enhancement of A.I. solutions to offer reliable predictions.
FemTech Products Propelling the "Smart" Living of Women
Numerous factors have contributed to the expansion of the femtech concept. More and more women these days are adopting tech roles that were once held by men. As more and more women take control of the workplace, awareness of health issues that are prone to women has seen a massive boost. Women today have assumed leading roles in both the household and the workplace. From devices for mother to tech-enabled wearables and jewellery, a broad range of products are available across the world that combines function and style.
Among the numerous wearable tech available in the market, Bellabeat is one of the top-notch products. The company's tech-enabled device can be adorned as a bracelet, necklace, or clip. This wellness device keeps track of fitness, meditation, stress levels, and menstrual cycle, among others.
Pregnancy and post-pregnancy care are critical months with the new mothers trying to combat multiple physical and mental health issues while taking the utmost care of the babies. Tech innovations such as Willow's breast pump play a vital role in easing their struggles. The pump is pretty compact, connects to an app, and confers a hands-free and no-spill pumping experience.
Menstrual cramps warrant only two things ‒ popping pain killers to manage another day or plugging in a heating pad to gain comfort. Livia, a portable pain relief device developed by iPulse Medical, offers drug-free pain relief from menstrual cramps via electrode gel pads that stimulate the nerves in the abdomen to restrict the pain signals' transmission to the brain.
Reusable Underwear by Thinx 
Thinx, a New York-based feminine hygiene company, offers a comprehensive portfolio of menstrual underwear as a viable alternative to traditional hygiene products. These underwear are washable and reusable underwear that can effectively replace pads and tampons as they absorb menstrual blood and dry pretty quickly. They neutralize the smell and keeps the underwear fresh and stain-free all day.
Among other products available in the market, period and fertility tracking apps include Clue, DOT, Flo, Extend Fertility, Eve, My Calendar, Lady Cycle, and others. Some companies also offer services such as egg freezing, IVF, and medical interventions; such as Nurx offers a telemedicine service to women for getting prescription and delivery of birth control pills. Twentyeight Health has an upgraded delivery model which provides health resources to the underserved and Medicaid populace.
Critical Insights into Femtech Market to Showcase Importance of Femtech Solutions
According to statistics, women in today's world ‒ as compared to men ‒ have a higher probability of using digital tools for healthcare services. This demographics potentially accounts for the largest share of the industry, considering 90% of women are the primary decision-makers of the household when it comes to health and everything related to it.
More than 80% of household expenses are carried out by women and women of working-age spend nearly 29 per cent more per capita income on healthcare and services as compared to their male partners.
80% of healthcare practitioners are women, and majorly women are primary caregivers for children and senior people.
The femtech market has garnered well-deserved attention, and the market has experienced a massive boost with regards to the regulatory environment over the last couple of years. In 2017, the European Union granted approval to one of the first mobile apps designed for contraception. In 2018, the app developed by Natural Cycles received clearance from the U.S. FDA for marketing in the United States.
The Bottom Line
As more and more revolutionary and innovative tech is being developed and women accounting for a massive share of consumer goods space, the "femtech" sector has expanded to become a comprehensive domain that caters to all the vital needs of a modern woman ‒ from everyday life to career to motherhood to later life stages.
The very postulation of femtech is progressing from a basic concept revolving around reproductive health to an enormous picture covering women's overall wellness. As more women take charge of the boardroom and household, the future of femtech shines brighter. Augmenting healthcare research and development is creating a space in the medical sector for femtech solutions to pave their own way.
While investors and venture capitalists are yet to fully understand the effects of funding for women's healthcare services as of now, the femtech market is poised to expand exponentially over the coming years. The application of technology to fabricate innovative and reliable solutions to age-old issues of women is anticipated to increase the attraction of femtech solutions.