Travel and Leisure
Coorg Trip Plan for 2 days
Ultimate Travel Guide to the Scotland of India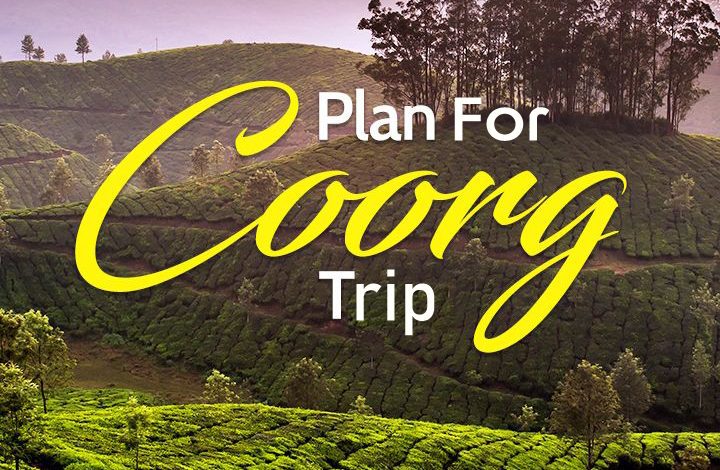 Get to know everything about the Coorg Trip Plan for 2 days: Where to Start? And Where to End? Read the overview
Coorg is no less than Heaven. There is so much to explore in Coorg. Surely, you are here to know all about Coorg. You would have many questions sparkling in your mind, like How do I plan a trip to Coorg? or How much will it cost for a trip to Coorg? And so on. You'll get your answers step-by-step, So, keep reading.
Where should one stay in Coorg?
You can find many Coorg hill station packages, including the best location to stay in Coorg.
To experience the Coorg at its peak, you should first accommodate yourself to the Best Madikeri resort.
Check out Best Luxury Resort in Coorg for a relaxing stay at an astonishing low price.
Now, I will tell you about proper planning before traveling to Coorg and Madikeri for 2 days to experience a perfect journey full of enjoyment.
What to do in Coorg for 2 days? and how to plan a Coorg trip from Bangalore?
This is a 2-day plan that will guide you through Coorg's popular destinations.
You must be wondering, What is special about Coorg?
Just Imagine:
"What it would feel like when you put your footstep on the soft green grass and greeted with the fresh smell of coffee plantations around. The breeze coming from the nirvana green mountains playing with your hairs and the hanging clouds in the sky heal all your agony to the core."
That is the Beauty of Coorg!
Coorg(Kodagu) is the district in Karnataka. This place is an evergreen that is lying on the slopes of the Western Ghats. It is an enchanting hill station blessed with the beauty of mother nature. So much so that it is decorated with the name Scotland of India.
How is the climate in Coorg?
The climate of Coorg remains pleasant all around the year. But if you wish to have a thrilling and rejuvenating experience, then head down to Coorg in the rainy season- July to September. The beauty is enhanced during this season, and the fickle weather of Coorg keeps up your excitement.
NOTE:- Take precautions like a raincoat and an umbrella. Keep extra pair of clothes with you to safeguard yourself from dripping wet in the unexpected rainfall.
Which is the language spoken in Madikeri?
In the Kodagu district, Kannada is the mother tongue used by the natives of Karnataka. Kodava tribe uses the Kannada language as their medium of communication.
How long is Coorg from Bangalore and Mysore?
You can reach Coorg through taxi/bus/car. The distance between Coorg is 250 km away from Bangalore and 120 km from Mysore. So, decide accordingly from where you want to start.
Bangalore and Mysore both have airports, railway stations, and bus stands.
You can also book Taxi services with IBNI Springs Homestay in Coorg. They provide safe pick-up and drop facilities from your desired location to their resort.

Check out affordable Coorg tour packages with a comfortable homestay.
MCTC Satellite Bus Station Mysore Road in Bengaluru is the nearest bus stand to Coorg. It is a prime bus station where buses depart and arrive for the nearby states.
If you want to head over to Ooty, Coorg, Karnataka, or Kerala, you can easily use this mode of transportation facility. You can instantly book bus tickets online to save your time.
What after reaching Coorg?
As you reach this natural paradise, you can start looking at different options to explore scenic sites. If you are a solo traveller, you can hire a bike to travel in Coorg. Rent is usually Rs 800 approximately. However, petrol fueling has different charges. Other than that, bus and taxi services are also on your options list.
Best Places to Visit in Coorg-Madikeri | Explore Coorg tourist places
Raja Seat
Raja seat is in the center city of Madikeri and also the prime tourist attraction in Coorg. It is also the Best Place to visit in Coorg for Couples. You will get a panoramic view of Coorg here.
A calm and pleasant site where Kings used to spend their quality time with their queens.if you have a queen, head over to this place to witness the romantic sunset.
 Entry Fee:
The entry ticket price is Rs 10/- only.

Timings:

5:30 am- 8:00 pm (every day)
Madikeri Fort
After the Raja seat, you can proceed to Madikeri Fort. It is an architectural marvel built in the 17th century, constructed by King Mudduraja, and later renovated by Tipu Sultan. You can see a museum here. Besides, you can capture and experience the serenity of the place.
Entry Fee:
Free
Timings:
10:00 am – 5:30 pm (Tuesday to Sunday), Monday closed.


Raja Tomb
Gaddige is the other name for this tomb. It is one of the prominent places in Madikeri. A symbol of royal Kodavas. Built-in indo-Saracenic architecture. This place is less crowded and located in a quaint location of Madikeri. If you want to see the broad view of Coorg at a nominal price, then you should go for it and observe the beautiful landscape of Coorg.
Entry Fee:
Rs 2 per person
Timings:
9:30 am – 5:30 pm (every day)
Abbi Falls
To have a soul-soothing experience, you must visit Abbey Falls or Abbi Falls. Originating from the river Kaveri this stunning waterfall Impels travellers to make memorable musings.
Entry Fee:
A nominal entry fee of Rs 15 is required to enjoy the flowing beauty of Abbey Falls.
Timings:
9:00 am – 5:00 pm (every day)
 Note: Keep your body covered as leeches wait to embrace you.Visitors are prohibited from bathing in the waterfall.
Mandalpatti Trek Coorg
andalpatti is the most attractive place in Coorg. It is the best place for trek lovers. The distance is 17 km from the jeep. To save money, you can visit in a sharing jeep. It can cost you a price of Rs 400-500 per person approx. Enjoy gusty winds and a breathtaking view of Coorg here.
Entry Fee:
Rs 25 per person
Timings:
6:00 am -6:00 pm (every day)
Note: To visit Mandalpatti, you can hire a jeep. I advise you not to ride on a bike as the roads are not feasible for the bikes. It would be risky to travel on a two-wheeler to Mandalpatti. So, better take a jeep.
Bhagamandala Temple
A notable marvel in Coorg is the Bhagamandala temple which is a peaceful place. You can witness other small temples here. This temple has religious significance as this temple believes to grant liberation from sins. Visit here for the spiritual upliftment and see its unique features.

Entry Fee:
Free Entry

Timings:
6:30 am – 1:30 pm
3:00 pm – 8:30 pm
(every day)
Note: The camera is not allowed in the Bhagamandala temple.
Talakaveri temple
Talakaveri temple has a great reverence as it is believed that the mighty river Kaveri was born here. It is 45 km away from Madikeri and It located at a height of 1276 m. You can see the rectangular tank at the temple where priests are performing holy activities. You can find the place to be the charming and worthwhile location to visit.
Entry Fee:
Free

Timings:
6:00 am -8:30 pm (every day)
Note:
Devotees take a dip in the holy water but do not touch it with their feet. So, do respect the sacred water and ask someone before performing anything.
Food stalls are available near the area.
From the Coorg bus stand, you can reach directly here at just Rs 100 per person.
Dubare Elephant Reserve Camp
Dubare Elephant Reserve Camp is a mesmerizing place for animal lovers. Around 33 km away from Madikeri, Dubare is the place to bring back your childhood. Get an opportunity to observe and interact with these galore giant creatures.
The reserve is headed by the forest department and elephants are handled by Mahouts. The surrounding area is home to many wildlife species. Altogether this is a lovely place for wildlife lovers. During the monsoon months, you can enjoy river rafting adjacent to the camp.
Click here If you want to explore popular locations of wildlife in Karnataka
Opening Time:
Morning: 9 am – 11 am
Evening – 4:30 pm -5:30 pm
( Every day )
Entry Fees:
Rs 20
Interested in River Rafting?
Price:
Rs 600 per person
You can participate in Rafting up to 7 km.
Chiklihole Reservoir Coorg
Chiklihole Reservoir is a popular picnic spot in Coorg, and the Dubare Elephant Camp is 7 km away from it. You can find the roads clean here. Hence you can comfortably visit.
A worthwhile place for a family trip and with friends. Captivating sunset view, beautiful flora and fauna, and the flowing water in the curvature shape of the dam impart a unique sight to visitors.
Entry Fee:
The entry fee is free.
Timings:
8: 00 am – 5:00 pm (every day)

Note: 
Carry your food along as there are no shops around the place. The above article is a 2-day tour plan for Coorg. You can hire a bike for 1500-2000 INR for 2 days to explore the picturesque locations in Coorg.
But if you plan to extend the number of days in your Coorg itinerary. Here are 10+ other important places to cover in Coorg along with whatever mentioned above:
Golden temple Bylakuppe (mini Tibet)
Irupu falls
Chelavara falls
Nalknad palace (king's hideout)
Nisargadhama (birds sanctuary)
Igguthappa temple (800+-year-old primary temple)
Omkareshwara temple (Indo-Islamic architecture)
Thadiyandamol trekking hill (Karnataka's highest point from sea level)
Nagarahole National park (wildlife sanctuary)
Try going for Coffee & Tea estate tours too.
Check out the Top 10 fun things to do in Coorg
Last but not the least, one general question often arises in every traveler's mind that they seem to be confused between Coorg and Madikeri. As many visitors ask locals, Where is Coorg? And they reply, 'You are in Coorg, mister !.
There is not one spot called Coorg but It is the name of the District. Coorg or Kodagu is a district in Karnataka. So, do not get confused with the name
Madikeri is one of the towns in Coorg & the district capital of Coorg.
Have you been to Coorg? Is there anything I left? And is there something of value that you want to share? Do share your valuable comments.

It is time to pack your bags and invigorate your life with the astounding natural beauty of Coorg.
Good Luck
Happy Journey!