Business
Trending
7 Tips How to Choose an EMBA Program and Business School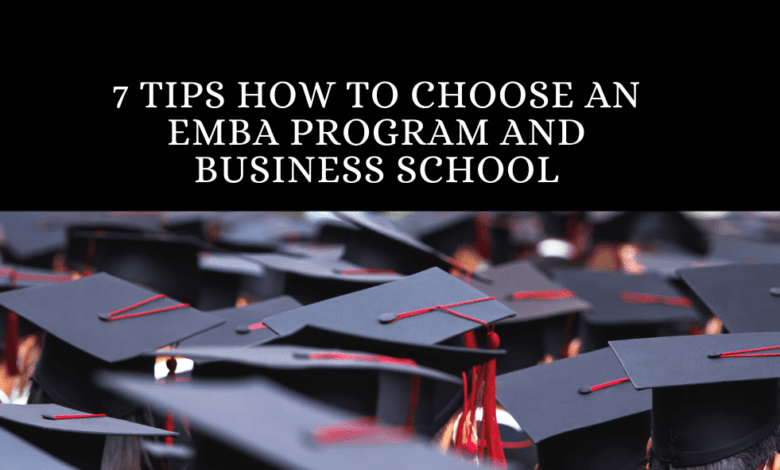 So you've decided that you need to take a business school course or program. On the Internet, you can see a large offer of various business courses: from advanced training and professional retraining to MBA and Executive MBA. Let's say you found your program in several educational institutions.
Where to go to study, and what should you pay attention to first of all?
1. Choose exactly a business school
Yes, exactly, a business school, and not a training company with an inviting website, three employees, and outsourced teachers. The answer lies on the surface – only a business school, as a large educational institution, is able to provide high-quality business education, since it has a standard of procedures, well-built business processes, methodically verified educational material, a stable contingent of teachers, and finally, a brand and reputation.
But there are also many business schools, and they are quite different. There are those that bombard e-mail boxes with their offers with "phenomenal" discounts, "unique" programs, and, of course, "guru" teachers.
Check out India's one and only Joint degree Executive MBA in Mumbai by IIT Bombay and Washington University in St. Louis.
2. A business school and its parent institution are not the same things.
Often people think that if a university is well-known and is included at the top of some lists, then the business school with it is just as good by default. It's not obvious at all. The teaching staff of a business school and a university should be qualitatively different because teaching green students and adults with business experience are different things. It happens that a university is strong, but a business school is not very good. If a business school at a university does not have independence in matters of management, finance, and the formation of the teaching staff, it is highly likely that you will be waiting for lectures and seminars of a university standard with university teachers. But you've already gone through this, haven't you?
3. Study the curriculum of the program.
The content of the program is inextricably linked with the teachers. Often, the administration of a business school, when drawing up a program, comes from the teacher and from the course that he can read since he does not always possess the expertise of the subjects that the students need. The consequence of this approach is the overlap of content in the courses of different teachers or the presence of obsolete courses. Evaluate to what extent the totality of the declared courses and the duration of their study correspond to your ideas about the desired knowledge. An example of an MBA curriculum in finance.
4. Who will actually teach on the program?
Surely you have already read the CVs of teachers on the website of the business school by this time and you were impressed. When talking to the admissions office of a business school, specify which of the iconostasis of titled teachers and famous practitioners will conduct classes specifically for your program. It is possible that you will not see the most famous. Be wary if you receive evasive answers at the admissions office.
5. Check out tutorials and projects
If the admissions office only offers you brochures and copies of diplomas/certificates, this is a bad signal. In a serious school, you will be shown the author's textbooks, textbooks of business school teachers. A separate topic – projects completed by business school students – should be asked to look at. Take the time to look through it carefully, you can usually assess the level of work. It is written according to a template a la university diploma or includes real research and practical conclusions.
6. Read what they write about business school
It is indicative in what context the business school and its teachers are mentioned in the media. Naturally, it is necessary to distinguish between duty messages and essential information. In the second case, it can be new programs, concepts, articles of teachers, results of round tables, discussions. To make it clear: a business school realizes itself as an accumulator of unique business experience, a researcher, and a generator of new. Therefore, the result of its activities must be appropriate.
But if all the efforts of the school are aimed at marketing, if it describes itself and its programs as something exceptional, shakes with certificates, promises unthinkable results, and tempts with incredible discounts – turn on the brake light. Serious, reputable business schools don't do this.
7. Reviews and recommendations of graduates
Reviews are tricky. A selection of accolades awaits you on business school websites. Understandably, business schools are reluctant to give critical reviews. At an open house or a presentation at an exhibition, you will be introduced to a successful graduate who will tell you how great everything was. Maybe he will criticize a little for something harmless, like, discipline should have been tougher.
Whom to believe? It would seem that the most reliable source is friends and acquaintances. But here, too, everything is not so simple. Imagine a colleague recommends his business school to you: everything was great, the group was strong, the teachers were great. Perhaps that was the case, although who will scold his school and, thereby, put himself in the position of a loser? Even if he liked everything, there is a significant chance that you are unlikely to succeed "exactly the same".
Firstly, the composition of the group will be exactly different, and secondly, the teachers may change. There were cases when the same teacher in different groups was perceived differently, in one – with a bang, in the other – they demanded his replacement. Thirdly, the composition of the courses, their duration, internship, and lesson formats may change. Not necessarily for the worse, maybe for the better. You need to understand: the program is a living product, it develops, changes, experiments.
Posted in Business.